On August 7, 2012 -- aka, deviantART's 12th birthday -- we
announced the recipients
of the first-ever cycle of the deviantART Creative Grants program. Since August, these deviants have been hard at work putting their Grant funds to use and we'd like to send you a few updates on their progress!
pikajane is hard at work getting her Life-Size Etch-A-Sketch skeleton project underway. This installation will include a life-sized rendition of a skeleton using multiple Etch-A-Sketches mounted to a wall. She has purchased the Etch-A-Sketches needed, as well as the skeleton. Check out her progress here and here!
SineMetuDesigns successfully hosted the Recycle Make-and-Take event in Columbus, Ohio. At this event, she had the opportunity to join forces with the Columbus Idea Foundry and provide free Make-and-Take stations at Columbus' FIRST Mini Maker Faire, which was held at COSI (a hands-on, interactive science center for kids) Saturday, September 29th, 2012. More than 100 individuals participate in a hands-on activity!
You can read her wrap-up journal here!
EverIris has been fostering creativity within the children of her community by offering affordable art classes. Since receiving her Creative Grant, she has been able to acquire the art supplies needed to improve the educational classes she conducts with local students. Right now, there's a battle of scheduling conflicts, but she is committed to getting these classes up and running again.
dogsofeternity hosted the Full Moon Art and Music Festival in Dallas, TX, featuring artists of all skill levels and mediums. Not only was this an amazing one-time event, but since putting on this gathering, Austin has been able to make connections with other attendees who have asked him to host future art shows! You can read more at his journal here.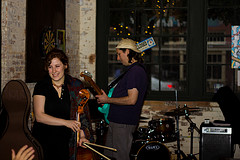 It's time for the next round of the Creative Grants program!
Excited by these projects? Your creative dream could come true too! Apply by describing the artistic endeavor of your dreams through our official application form. If you didn't get a chance to participate in the last round, now's the time to get involved!
WHAT TYPES OF PROJECTS WILL YOU CONSIDER?
We're looking for exciting and art-related projects that need a little push financially. Think devious!
Here are a few examples of what Creative Grants could be used for:
Installation of an art exhibition
Additional artist materials or resources to support the production or public display of art

A piece of work that requires specific tools
Costs to run a creative event
If you're looking for money to pay your rent, go to classes, upgrade your Group to Super status, buy a Premium Membership or pay off your student loans, this is not for you.
WHO DECIDES RECIPIENTS?

Applications will be reviewed by the Creative Grants Board, which consists of staff, volunteers and senior members. All applications in a given cycle will be reviewed by members of the Board fairly and Grants will be given to as few or as many as the review panel deems appropriate within the budget of available funds. The Creative Grants Board will pick those projects that they believe will benefit particularly from a Grant and give those artists the support they need to make it happen. Grants will range between
$250
and
$750
for this cycle of funding, with a total funding of $10,000 available.
Who

Can

Apply

?




This opportunity is open to all deviants across the globe who are 13 years of age and older with a registered deviantART account.
THE PROCESS
On 3 month cycles, deviantART will accept applications from artists seeking to fund art-related projects. P

lease do not apply for a project scheduled to take place within the next 3 months. Plan ahead!
Applications can only be made using the official Creative Grants form.
Use of funds should be scheduled to take place within 3 months of receipt of the Creative Grants.
If your application is approved, you will be expected to post a Journal and photographs to show off some element of the project that received funding. We want to see the results of your hard work and what we helped support!
Until you receive a Grant, you can continue to apply, but a deviant can only make one application in any given three month cycle, and once s/he receives a Grant s/he is ineligible for future Grants for a period of 2 years.
What happens If you receive a Creative Grant?
The lucky few who are chosen to receive Grants will also be given a beautiful accolade on their deviantART Profile Page to celebrate their success.

Official Guidelines
Please note: The Creative Grants application process is currently closed. Thank you for your interest.